"How are you going to feel come Monday morning?"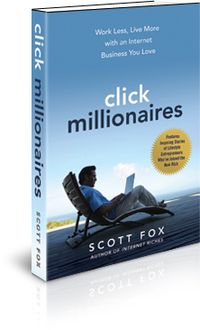 Scott jumps right in and sets the stage for where the reader is right now.  If you picked up the book, you are definitely tired of you current lifestyle and you are looking for a better way.   You are tired or not excited by your work or not getting paid what you feel you are worth.
I think this is very true for many people!  And many people have come to the realization that they a) want to do work that is interesting and exciting and b) they want more freedom over their lifestyle.
This book is separated in to several different sections:
Part One: Work Doesn't have to be something you hate.
Part Two: Click Millionaires Lifestyle Business Systems
Part Three: The best Internet Lifestyle Businesses for you today
Part Four: If you don't have a product of your own
Part Five: How to find your niche on the internet
Part Six: Nuts and Blots: Building your business and Making money
Part Seven: Lifestyle Lessons from Click Millionaire Internet Entrepreneurs
I really like the mix of personal development, what do I really want, and business strategies, how do I do it, it shows the multidimensional aspects of starting your own internet business.
Most people that pick up this book will relate right away to the notion that they know there is a better way to get what they want.  They are definitely looking for not just another job but a new lifestyle.
Scott describes a Click Millionaire as focused on building a flexible and profitable lifestyle business online that suite the needs of the individual.  He uses websites, eCommerce, digital publishing and social media to build that business.
There are several key items that Scott and I agree on 1) you don't have to have a goal of a million dollars, maybe it is only $100,000/year, or maybe it is just do something meaningful or creative and 2) you do not (should not) need to give up your "day job" if you like it or if you require the stability while you are building the business.
I am really happy to see Scott starts with discovering your ideal Lifestyle Design.   This supports that ideal that you are creating a business around your lifestyle rather than your lifestyle around the business.  This gives you much more choice and freedom from the start.
At the end of each section there are exercises that help you turn the theory into practical decisions.
Scott talks to about the fact that the ideal lifestyle business follows very specific principles:
Helping people
Expert Credibility
Automation
Outsourcing
Audience Content Creation
Scalability
Recurring revenues
Putting all of these principles into practice will set you off in the right direction for success.  Scott goes into great detail not all about what each strategy is but how to go about using it.
Another aspect that Scott dives into is the basics internet business and how they can be used to make money.   There are great success stories of individuals that have used a particular strategy and create their ideal lifestyle.
Maybe you still have no clue what business ideas of products you want to offer, no problem Scott has an answer for that as well.  You can promote other people's products, often called Affiliate marketing.  You find products that fit into your business and audience and promote them.  There are many different strategies that are successful.
Another area that Scott and I agree on…. Save your money and invest your time is a "do-it-yourself" approach to building your business. There will come a time when you can invest money into services to assist you, but in the beginning stages, it is best to do it yourself.
The last chapter in the book lays out an easy 10-step action plan for redesigning your life and starting your business.
There really are a lot of awesome resources, exercises and action plans in the book, they will get your moving in the right direction.   I really enjoyed reading the book, I have now read it three times in the last 6 weeks.
About Scott Fox

SCOTT FOX is the Founder of the popular lifestyle entrepreneur coaching community ClickMillionaires.com and Author of the new book Click Millionaires: Work Less, Live More with an Internet Lifestyle Business You Love.
Scott is a "Click Millionaire" serial startup entrepreneur, executive, podcaster, and Author whose e-business strategy coaching helps solopreneurs, small business owners, and corporations make more money online.
Scott has built many multi-million dollar e-businesses ranging from niche online ventures, to Silicon Valley venture capital-backed startups and Fortune 500 corporate web sites, to sites for celebrities like Bill O'Reilly and Larry King.
His work and books have been covered extensively in the national and international press including in the Wall Street Journal, Forbes, USA Today, The New York Times, The Globe & Mail, SUCCESS and Smart Money magazines, The Boston Globe, The Orange County Register, and many radio and podcast programs worldwide.
A graduate of the University of Michigan and Stanford Law School, he is the best-selling author of three books:  Internet Riches, e-Riches 2.0: Next Generation Online Marketing Strategies, and the new Click Millionaires.
You and your listeners are invited to visit http://www.ClickMillionaires.com for free email newsletters and to join the friendliest lifestyle business coaching community online for free.
Action Steps
1. So your next Action Step – go buy the book and read it! Click Millionaires: Work Less, Live More with an Internet Business You Love
(amazon affiliate link)
2. Go check out Scott's forums over at http://clickmillionaires.com/ I will see you there!
3. Send me a email with any questions you might have info@foundationcoaching.com