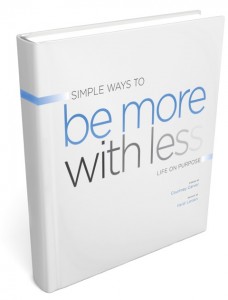 I was lucky enough to receive an advanced copy of Courtney Carver's new ebook, Simple ways to be More with Less.  I am SOOO glad. I raced through the book in a few hours.  I am looking forward to putting into action some of the great ideas.
The concept that I most connected with in the book was choosing to create your life with purpose! The book consists of 27 idea that will help you be more with less.  Included are some pretty awesome guest contributors; Leo Babauta | Simplicity blogger and author, Leo created Zen Habits, one of the top 25 blogs according to TIME magazine.Jonathan Mead | Through his blog, Illuminated Mind, Mead helps people kill their day jobs and get paid to be who they are.Tammy Strobel | Founder and blogger behind Rowdy Kittens, Tammy challenges her readers to change the world through simple living.
I don't want to give away too many of the juicy bits, but I love the Less and More idea.  Soo all through the book, there are actions that you take to create less or create more, like Less email and More napping.  Who couldn't use more napping?
So many of the ideas align perfectly with my own Body and Mind in Balance program, putting your self care and your needs of less and more as your highest priority you will be choosing to live your best life possible.
"You are the core of your family, your business, your circle of friends and your life.
It really is ALL about you! Not in a self absorbed kind of way, but in a you better be healthy and take care of yourself, or this world is going to kick your ass kind of way."
Something really interesting was Courtney's idea of Balance, or the idea that you can't really every have balance.  People juggle some many things how could anyone ever find balance, you are really just trading time from one area to another.  But simplifying needs less things to juggle so therefore more time to spend on the important things…
I am not sure I am ready to give up the idea of balance… I definitely can see the need to simplify more!
ooh I love Less Gift Giving, as you may have heard me say before, several years ago we decided as a family to no longer exchange gifts, that we would take the money and pick a charity to give it to.  Most Christmases we give to World Vision, which allows you to buy gifts for people that really need them.
I could go on and on, but really you should just hop over and get yourself a copy. Click here to view more details
*Affiliate Link