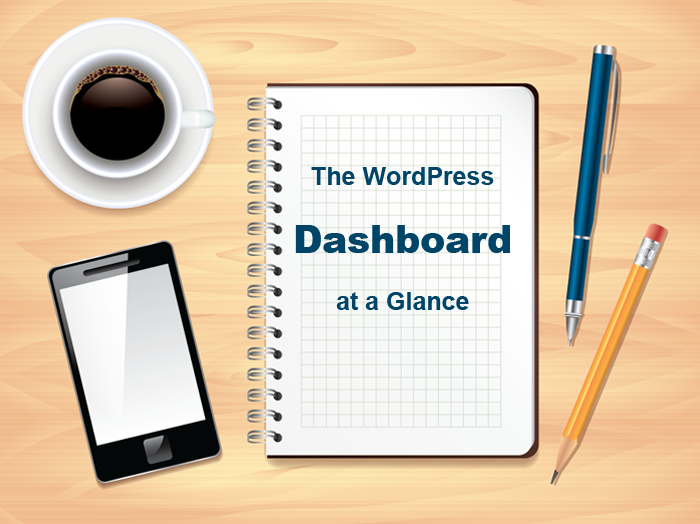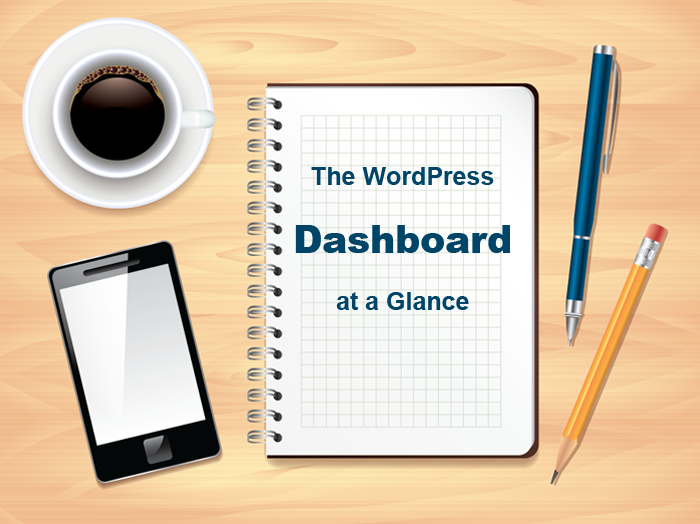 When you first login to your WordPress you land on your Dashboard.  From the Dashboard you access all the other areas of your site.
1. The bar across the top is called the Toolbar.  Position 1 is quick access to plugins, comments, new post/pages.
2. Toolbar, this position is Who is logged in and their quick access to profile and logoff
3. Main Navigation – You can access all other parts of your set from here.  When you installed plugins, most will add a link here for easy access.
4. Welcome to WordPress.  This is turned on for the first install.  This list some common links to places you would want to start customizing.  You can turn this off , but click the Dismiss link.
5. At a Glance Widget. Quick Access to the most common info.  How many posts, How many pages,  How many comments,
6. Quick Draft Widget.  This allows your to quickly and easily save ideas for future posts. Add a title, add a couple of notes and save draft.
Screen Options:  The Widgets (boxes) on the dashboard can be moved, changed, edited and turned off.  A quick way to turn off the standard widgets is with the screen options.
Click the Link Screen Options will expand the screen.  You add or remove the check marks to change widgets.
You will find that some plugins will also add a widget to the dashboard.
There is just a quick review of the standard fresh install dashboard.   Tomorrow's post is The Easiest way to Secure WordPress.
Free 5 Day Video Training On How To share your Unique Message, Attract More Clients and Create a Successful Business. Step-By-Step strategies for creating a Divinely Powerful Online Presence!
Start Creating an Amazing Website
    Learn how to be Spiritual Rich
    Learn how to create a Divinely Powerful Website
    Learn how to create a real Client Connection
    Learn how to expand your reach with Social Media
Enter your email to view your videos now!  Click Here to Learn More